Text, links and QR code still need to be updated for 2020
For EuroPython 2020, we are again using Attendify to provide easy access to the conference details, schedule, maps and help content in order to support your conference experience.
Stay up to date with the conference app
We'd like to make use of the app to keep you updated by sending regular updates of the schedule, inform you of important announcements via push notifications and help you engage with your fellow attendees via the built-in activity stream "EuroPython Pulse":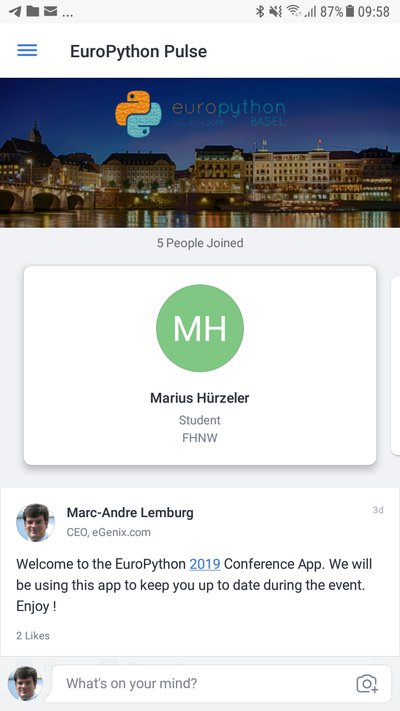 Important:
Please note that you have to create a new profile account within the app.
The app accounts and the account on our website are not connected,
so the website password will not work to register in the conference app.
This is due to the fact that we cannot integrate our website with the
mobile app vendor's backend system.
Install the EuroPython 2020 Conference App
First, please install the "Attendify" app on your mobile: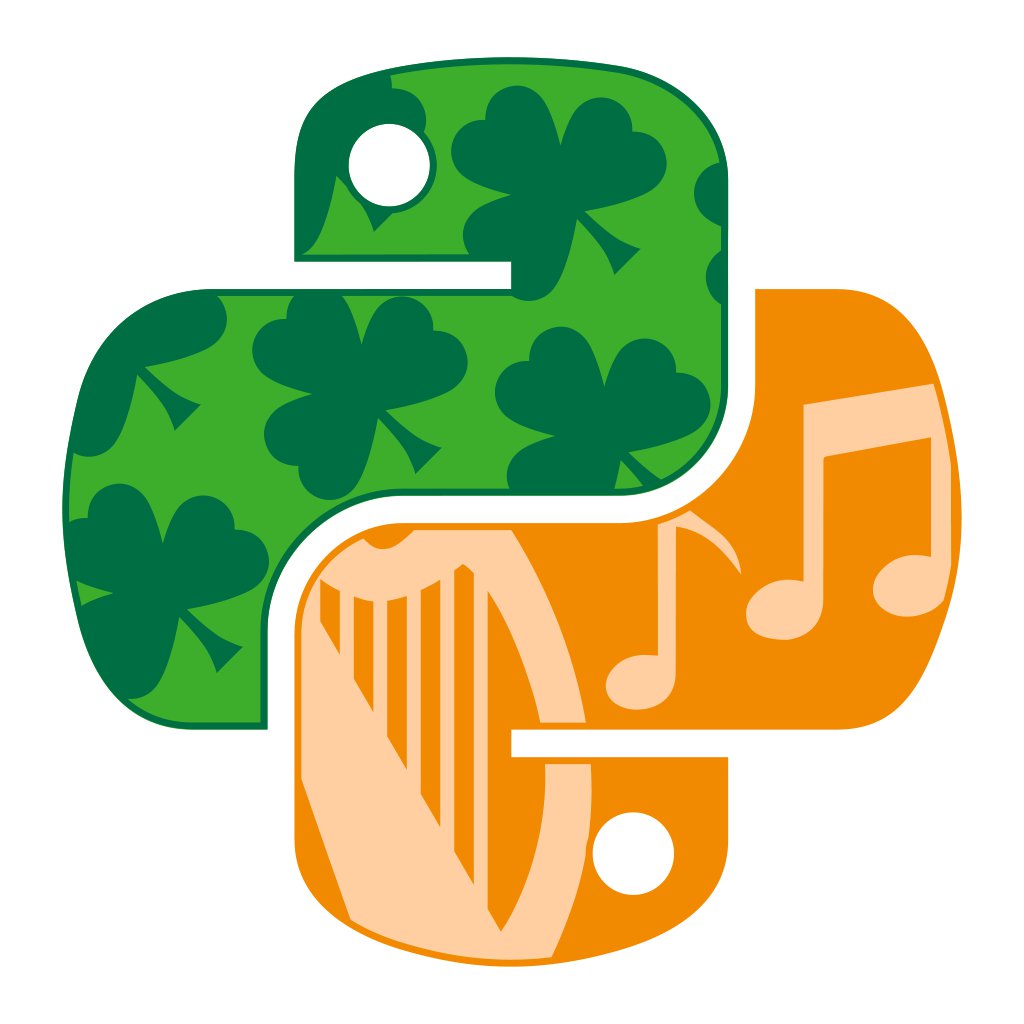 Inside the Attendify app, search for "EuroPython 2020" and
enter the code "europython2020" to access it.
For other mobile platforms, we have a similar web application available. Simply point your browser to the following link:
Please note that the web app only offers a subset of the features of the native apps.
Engage with the conference and other attendees
The mobile app gives you access to the conference schedule (even offline), helps you plan your conference experience and provides a rich social engagement platform for all attendees.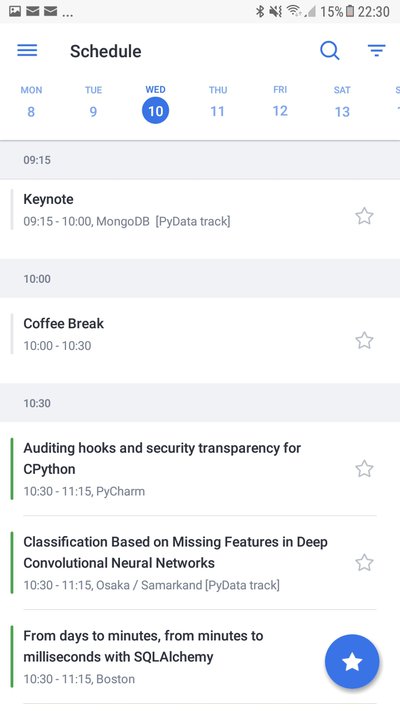 You can create a profile within the app (or link this to your existing social accounts), share messages and photos, and easily reach out to other fellow attendees.
Create personal schedule
The app allows setting up your own personal schedule and even provides reminders on your phone before the sessions start.
In order to use this feature, you have to go to the "Schedule" in the app and click on the stars next to the sessions. You can then enter the reminder notice period.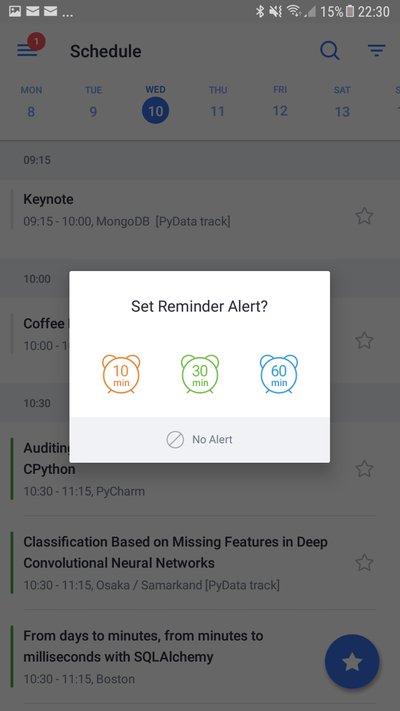 Provide feedback on sessions
The app allows providing feedback on the sessions we have in the schedule by rating them using a star rating and an optional review text.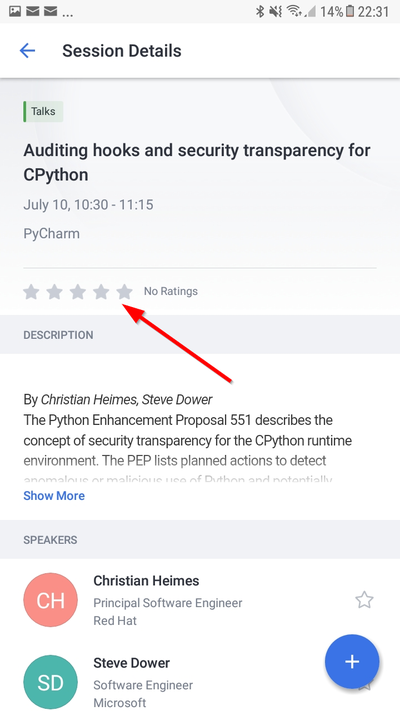 These ratings will help us when organizing future events, so we would like to encourage you to make use of them. Thanks !
How to use the apps
Our app is based on the Attendify platform. These are a few resources we have available to help you navigate and use the app:
Quick intro to the app (with links to feature documentation)
Create a profile in the app: to create a profile, you have to sign up inside the app using email and password. The app will save these details for you, so you only have to enter these once. The profile can then be linked to LinkedIn, Twitter, Google+ as you see fit and cross post your messages to these linked accounts.
Create your personal schedule (with reminders)
Message other attendees in private
Taking notes and exporting these
Rate speakers and sessions, provide feedback & comments
Tips for using the app (activity stream / EuroPython Pulse, private messages, bookmarks and alerts)
PDF explaining the app using screenshots (creation of profile, create personal schedule, post messages, rate and reviews sessions, add favorites and notes, access push notifications, reset password)
Nice features
Full up-to-date schedule
Create your personal schedule with reminders
Instant notifications about important conference updates
Maps of the venues and the room layout
Socialize with other attendees using the "EuroPython Pulse" (send messages, photos, etc.)
In-app access to the EuroPython 2020 website
Sponsor listings
Speaker listings
Watch Twitter updates and tweet right from within the app
Contact other attendees directly from within the app
Useful information in the "About" section (Contacts, CoC, FAQ, City Infos, etc.)
Offline use (for the native apps)